OVERVIEW
We are Vietnam's largest private sector company and have a track record of actively building, acquiring and managing market-leading businesses in several of the fastest growing areas of Vietnam's economy. Our businesses include Masan Consumer, Techcombank and Masan Resources, leading large scale operating platforms in the consumer products, financial services and resources sectors, respectively.

Our vision is to become Vietnam's local private sector champion in terms of scale, profitability, and shareholder return and to become the country's growth partner and employer of choice. In order to achieve this vision, we operate in sectors where a local private sector company can be a market leader and we can develop scale through focus and consolidation.
Our management team is comprised of professionals with global risk management and capital allocation expertise, Vietnamese managers with local execution experience and, at our operating businesses, senior industry executives with a track record at multinational corporations.
Leading Businesses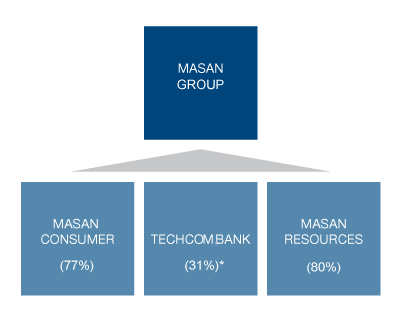 Masan Consumer - one of the largest and fastest growing diversified FMCG companies in Vietnam with a dominant market share in the condiments, convenience food and instant coffee categories. With a portfolio of some of the most recognized brands and the largest food distribution network in the country, Masan Consumer aims to carry its success to other attractive consumer categories.
Techcombank - the 3rd largest joint-stock commercial bank in Vietnam in terms of total assets and the most profitable JSCB bank in Vietnam as measured by ROE in 2011 and 2010. With one of the fastest growing branch and ATM networks in the country, Techcombank achieved the third largest total deposits of all the private sector banks in Vietnam for the year ended 2011. Today, Techcombank is a leading financial services platform focused on its core retail and SME banking businesses. Techcombank was awarded "Vietnam's Best Bank in 2011" from FinanceAsia magazine.

Masan Resources - with a vision to create Vietnam's largest private sector resource company, Masan Resources completed the largest Vietnamese M&A deal of the year in 2010, by acquiring Nui Phao Mining Joint Venture Company Ltd, a world-class tungsten and base metal mining project. Once operational, the Nui Phao project is expected to be the largest producer of tungsten outside of China and one of the largest single-point producers of fluorspar and bismuth globally.
* Due to Vietnam laws and regulations, a company is currently not permitted to own more than 20% of the outstanding shares of a Vietnamese bank. Masan Group's effective ownership includes convertible instruments and we are Techcombank's largest stakeholder.

MARKET LEADING PLATFORMS
A best-in-class business building platform