Home
› Vietnam Food & Beverage
VIETNAM FOOD & BEVERAGE
Historically, Vietnam relied primarily on agriculture as a source of output, but has shifted towards a more market-oriented economy since the initiation of the "Doi Moi" (renovation) socialist-economic reform in 1986 and joining the World Trade Organization in 2006. These market liberalizations have helped Vietnam become one of the fastest growing economies in the region with an annual GDP growth rate (CAGR) of 14.1% between 2007 and 2011. The Vietnamese population has benefitted from the strong economic growth. Their increasing affluence has stimulated consumer spending per capita, which rose by a CAGR of 17.2% between 2007 and 2011.
Nominal GDP per capita and consumer spending per capita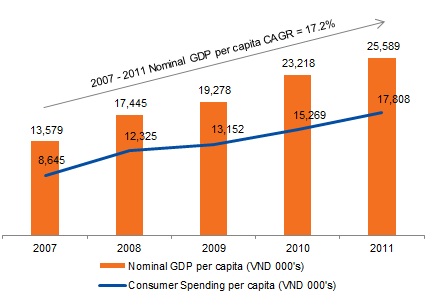 Source: World bank, Euromonitor
The Vietnamese economy is projected to be one of the fastest developing economies in Asia, largely propelled by having:
One of the youngest demographic profiles in Asia with high trainability; 68% of the country's approximately 89 million people are under 40 years of age
The highest projected real GDP growth in the region in the next 5 years with average growth of 7%
One of the world's leading markets for consumer confidence with retail sales growth of 24% in 2011 and private consumption accounting for 68% of GDP in 2011
An investment-intensive economy with investments accounting for 38% of GDP in 2011
Continued commitment from global investors with FDI disbursement increasing by 6% to approximately US$12 billion in 2011
Structural reforms that have improved Vietnam's business environment and have supported growth in foreign and private investment
A generous endowment of natural resources including oil, minerals and productive land
Political stability and openness to foreign direct investment
The Vietnamese economy recovered strongly in 2009 from the global financial crisis with real GDP growth of 5.3% per annum, the third fastest in Asia after China and India. Looking forward, Vietnam is expected to achieve stable real GDP growth rate of 7.1% between 2011 - 2015, underpinned by strong growth in consumption, investment and exports coupled with measures undertaken by the State Bank of Vietnam to curtail inflation.
Per capita consumer expenditure on food and non-alcoholic beverages among peers (2007 - 2016)
/span>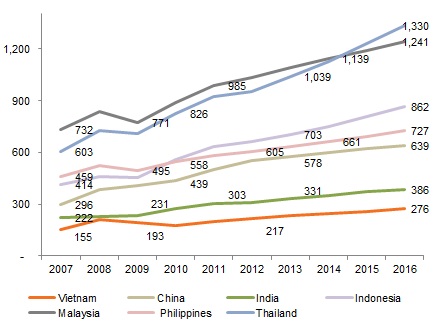 Source: Euromonitor as of May 2012

Between 2007 and 2011, per capita consumer expenditure on food and non-alcoholic beverages across all seven benchmarked countries – Vietnam, India, China, Indonesia, Malaysia, the Philippines, and Thailand – increased. Vietnam had the lowest per capita consumer expenditure on food and non-alcoholic beverages at US$201 in 2011, as Vietnam's average per capita disposable income provides little room for discretionary spending on non-essential food products.
With a young population entering the workforce, per capita consumer expenditure in Vietnam will continue to grow over 2012-2016. By 2012, Vietnam's per capita consumer expenditure on food and non-alcoholic beverages is expected to reach US$276.
The consumer expenditure on food and non-alcoholic beverage is expected to grow to US$25.2 billion by 2016, from US$17.7 billion in 2011. Currently, local and regional companies control the market with a market share of ~80%, driven by consumers' preference for local products. The consumer goods sector in Vietnam is under penetrated; on a per capita basis, spending on packaged foods and beverage is still relatively low compared to its emerging market peers. This is expected to grow as GDP per capita rises. In addition, other key growth drivers include:
A shift from unbranded to brand products
The emergence of modern trade;
A continued shift to premium products
Increasing demand for packaged/convenience foods
The rise of cold supply chain