Overview
We are one of Vietnam's largest private sector companies with a focus on the consumption and resources sectors. We have a track record of actively building, acquiring and managing large-scale operating platforms that capitalize on Vietnam's structural consumption and resources stories. We believe that substantial value can be created for our shareholders through professional management, global partners and a commitment to serving Vietnam's emerging middle class.
Our vision is to become Vietnam's local private sector champion in terms of scale, profitability, and shareholder return and to become the country's growth partner and employer of choice. In order to achieve this vision, we operate in sectors where a local private sector company can be a market leader and can develop scale through focus and consolidation.
Our management team comprises professionals with global risk management and capital allocation expertise, Vietnamese managers with local execution experience and, at our operating businesses, senior industry executives with a track record at multinational corporations.
GRoup corporate structure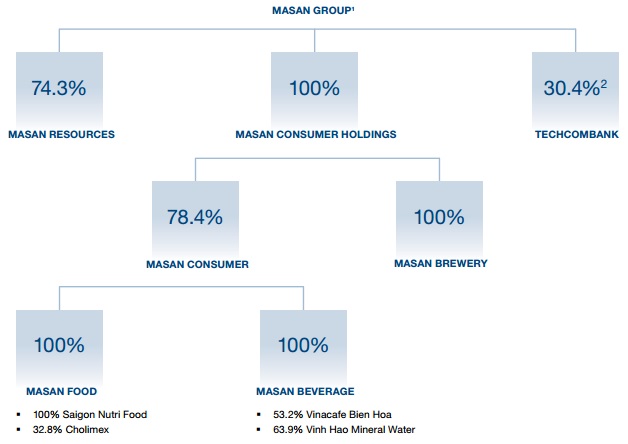 1. Does not include our intermediary holding companies.
2. I
ncludes Masan Group's partial ownership in Techcombank's VND3,000 billion convertible bond offering issued in December 2010.
Masan Consumer Holdinngs - Masan Consumer Holdings was established to be the Group's primary platform to invest further in Vietnam's consumer-related opportunities. Its core holdings include, Masan Consumer and Masan Brewery.




Masan Consumer is one of Vietnam's largest local diversified FMCG companies. We manufacture and distribute a range of food and beverage products, including soya sauce, fish sauce, chili sauce, instant noodles, instant congee, instant coffee, instant cereals, and bottled beverages. We commenced operations in 2000 and have subsequently grown our product portfolio, domestic sales and distribution channels to establish a leading position in Vietnam's branded consumer food and beverage product market. Our key brands include Chin-su, Nam Ngu, Tam Thai Tu, Omachi, Kokomi, Sagami, B'fast, Komi, Vinacafé, Wake-Up, Phinn, Kachi and Vinh Hao.




Masan Brewery was established after our acquisition of Phu Yen Beer and Beverage Joint Stock Company in 2014. Since our involvement, we have turned around the operations and introduced a new beer brand, "Su Tu Trang," which has had a successful pilot launch in the Mekong Delta. As a result, our brewery operated at 100% utilization in the last quarter of 2014, and we are in the process of expanding capacity.



Masan Resources -Masan Resources is one of the largest private sector natural resources companies in Vietnam, currently developing the world-class Nui Phao polymetallic project in Northern Vietnam. Nui Phao will be a globally significant producer of tungsten, fluorspar and bismuth – niche industrial minerals that are significant enough to establish a private sector leader.




Techcombank - Techcombank is currently one of the largest JSCBs in Vietnam in terms of total assets, loans, deposits, customers and distribution network. It has built industry-leading franchises in retail deposits, SME and retail lending. In the 21 years since its establishment, it has developed a diversified range of financial products and services to cater to the financial needs of Vietnam's 50 million strong labor force and 305,000 private enterprises. Techcombank has successfully ridden the wave of financial liberalization and the ensuing rapid growth of the financial services sector in Vietnam to become among the largest and fastest growing banks in the country.