EXECUTION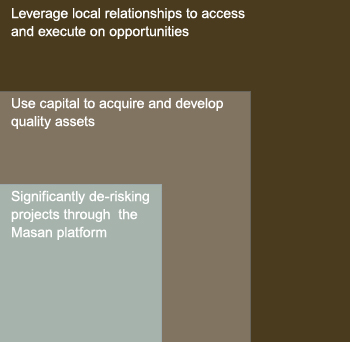 Our execution strategy for building our business is focused around three key areas:
Leverage local relationships to access and execute opportunities
First on scene - Leverage local networks to obtain preferential access to quality assets
Vietnam expertise - Proficient at navigating central and local government and regulatory requirements
Swift execution - Governmental and community ties to accelerate onsite progress
Use capital to acquire and develop quality assets
Brownfield assets - Inject required capital to complete development of brownfield assets to generate near-term cash flows
Optimize production - Inject expansion capital to scale up operations for significant productivity gains
Value addition - Put capital to use in building infrastructure to improve asset efficiency and cost competitiveness
Significantly de-risking projects through the Masan platform
Macroeconomic risk - Hedged against commodity price fluctuations with Masan Resources' diversified basket of metals and minerals
Financial risk - Access to Masan Group's stable capital flows and investor networks
Operational risk - Access to Masan Group's trading partners, customers and professional management expertise to solve operational issues

ACHIEVE GLOBAL STANDARDS
Masan Resources is committed to working to achieve global standards as we develop and expand our business. We have has assembled a team of world-class professionals with extensive international and regional experience who is passionate about building Masan Resources into Vietnam's resources champion.
We care deeply about the impact of our projects on the environment and community surrounding them. Thus, our environmental and social action plans are built in accordance with IMF Performance Standards and with Equator Principles (the 'gold standard' for social and environmental sustainability for mining projects) to minimize any adverse impacts from our projects and also to add value to the communities surrounding our projects. We have provided some additional infrastructure to the people relocating to the resettlement sites provided by our projects, as well as providing training to help them to be able to pursue alternate careers. For more information on our community initiatives, please refer to the section on Community.
By the end of 2014, the Nui Phao project had invested over US$80 million into the local community affected by the project, towards compensation and resettlement, and various economic restoration activities. To date, we have provided economic restoration to over 3,000 households from the project-affected area, through alternate skills training, employment with Nui Phao and partnerships with international investors to provide employment opportunities for the people.