Consistent with IFC Performance Standards and local statutory requirement, the key objective of our community engagement activities is to ensure directly and indirectly affected people and the project affected communities are not worse off as a result of us being here or otherwise improved, and further, that they realize benefits of having a successful mining project operating in the immediate vicinity. Special care to the vulnerable affected groups such as to the ethnic minorities, female headed households, disable persons, poor families etc.
Nui Phao community engagement activities are focused around the impact that the development of the mine has had on the directly affected people. The community engagement activities are therefore arranged into critical areas:
Economic Restoration– for those people whose livelihood have been affected by the development of the project (including land acquisition for resettlement, economic restoration project, environmental management and community infrastructure development).
Sustainable development – recognizing the role we play in helping to advance the living conditions in our host communes, providing a useful and sustainable contribution to local communities based on their own development needs, under a mutually beneficial framework that supports both the Company and community goals.

i) Economic Restoration
Economic restoration activities including employment, local outsourcing and local economic development (through the economic restoration fund)
- Employment: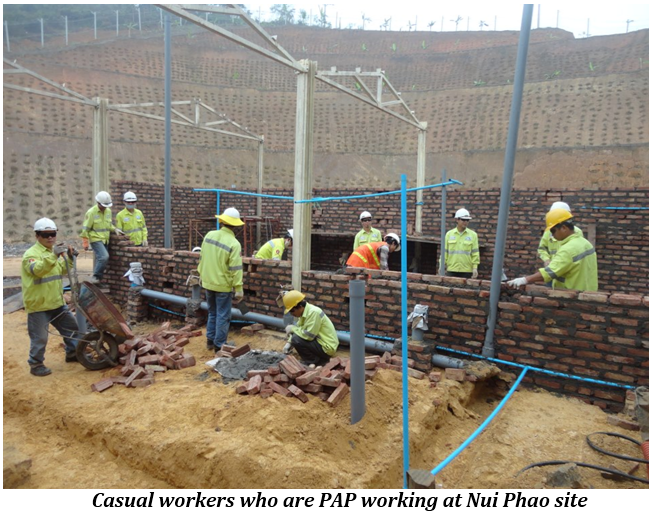 Part of the company's strategy to ensure the economic viability of the project affected people is in the priority recruitment of those people. In 2014, more than 950 project affected people (38% of the total workforce, including contractors) were employed at Nui Phao. Besides, 100% casual workers are project affected people.
Employment at Nui Phao will be a benefit to project affected people for the life of the project. Going further our economic restoration activities also consider how project affected people will earn an income after the end of mining.
- Local outsourcing: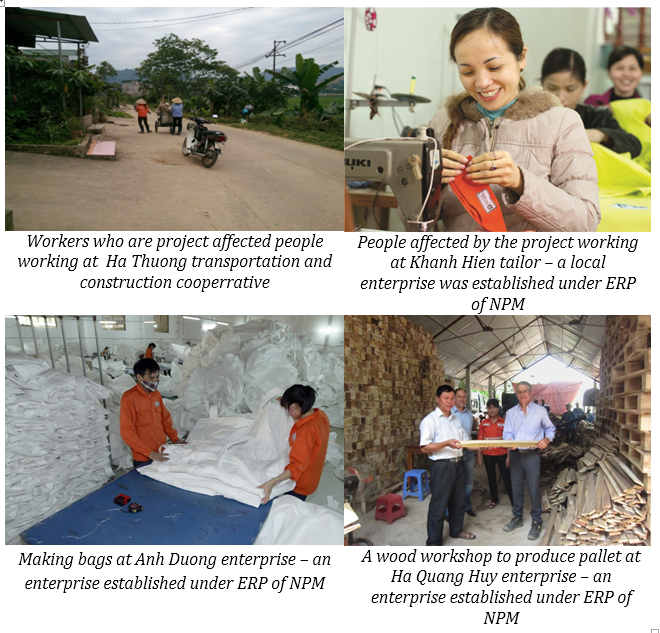 At the end of 2014, four enterprises had been established as part of our economic restoration programs providing employment for 67 project affected people and an average monthly income of approximately US$160. Nui Phao is the primary customer of these enterprises at this stage, and in the future, expanded customer bases for all enterprises will be sought.
- Agricultural service extension (Viet Gap, Husbandry)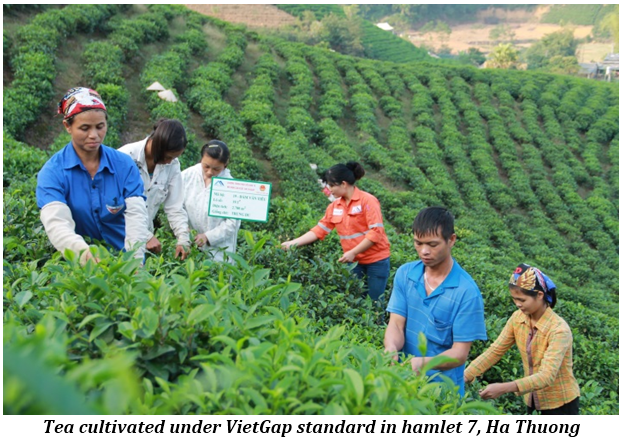 Nui Phao supports agricultural activities in project affected communes through programs such as planting tea following VietGap standard in Ha Thuong, Hung Son and Tan Linh communes, husbandry in Tan Linh, Cat Ne and expanding safe vegetable model in Hung Son. The VietGap tea model is developed with the aims of enhacing tea value for farmers whose major cultivation is growing tea. About 100 of households in Ha Thuong, Hung Son and Tan Linh communes are applying the techniques of growing tea following Viet Gap standard under the economic restoration program of NPM.
- Economic restoration fund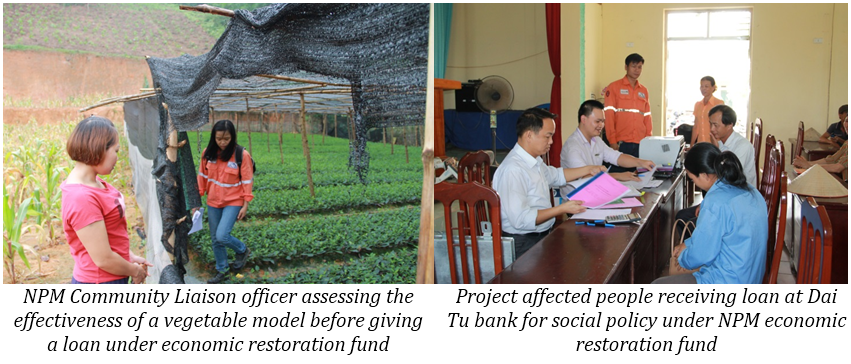 The Nui Phao economic restoration fund is part of compensation and resettlement fund according to government policy and subsidized by Nui Phao. One part of this fund is the micro finance program, established in 2007. In 2013 Nui Phao officially launched an economic restoration program to provide loads for project affected people from the communes of Ha Thuong, Hung Son, Tan Linh, Cat Ne. The micro-finance program continued to be enthusiastically accessed in 2014 and 2015. In particularly, in 2014, more than US$115,000 loaned generated through the fund for 73 beneficiaries (compared with approx. US$23,000 for 21 beneficiaries in 2013). Funds were used for the purchase of livestock, infrastructure, machinery, and other purpose. Notably, eligibility was expanded in 2014 to include not only households but also enterprises in 2015; the fund has been expanded to Phuc Linh commune - a neighboring commune of the project but a non-project affected commune.
The Nui Phao economic restoration fund is an important contributor to our economic restoration activities as it enables project affected people to loan money at the same interest rates of the policy bank, in order to establish income-generating enterprises for themselves, and in some cases, other project affected people. Where an enterprise is established using a loan from the micro-finance program, it is a condition of the loan that employment is filled by project affected people.
ii) Sustainable development and corporate social responsibility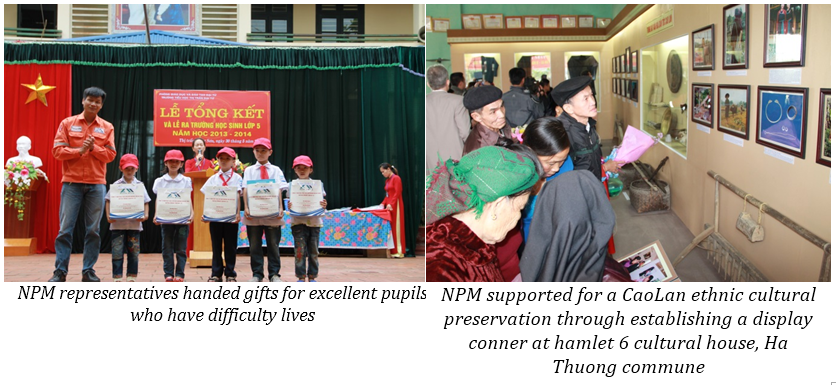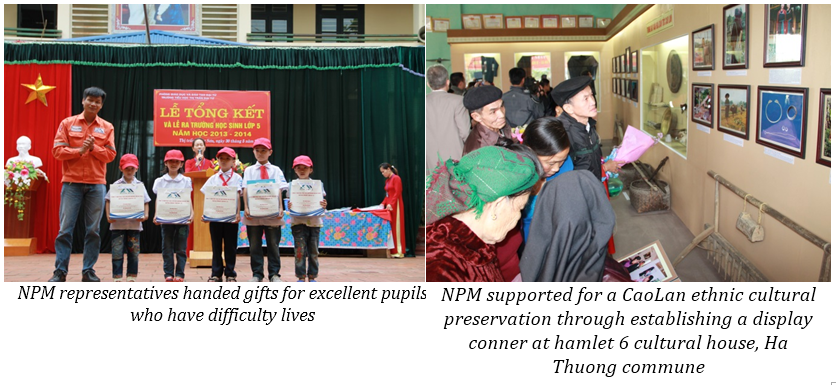 The company's community development and corporate social responsibility programs includes infrastructure, capacity building, and other corporate social responsibility. Our total expenditure in 2014 was approximately US$342,500 including approx. US$115,725 of the economic restoration fund (compared with US$258,000 in 2013).