Masan Resources takes steps to the quality of life, satisfaction and economic stability of the community. Resettlement activities have been conducted in line with World Bank guidance on involuntary resettlement.
Development of the project has directly affected seven communes (four project communes and two host communes receiving the resettled community members) and resulted in the requirement to acquire land from approximately 1530 households in six project sectors. Of these, 953 households required physical resettlement and the balance have been economically displaced. In addition, there are about 1,664 households from other sites, such as the three resettlement sites (Nam Song Cong, Hung Son 3, Dong Bong), the economic development site (Hung Son 2) and sites required for environmental management, are also affected by Nui Phao's land acquisition. Of these, 395households have been or will be physically resettled and the balance has been or will be economically displaced.
In total, the company will resettle 1,925 households over the life of the project, making it the largest resettlement project in Thai Nguyen province and one of the larger in Viet Nam. The company will making efforts to minimize land acquisition impacts, especially to the school road site. The families affected by the Nui Phao mine have either relocated to new premises or to one of the three following resettlement sites:
Nam Song Cong site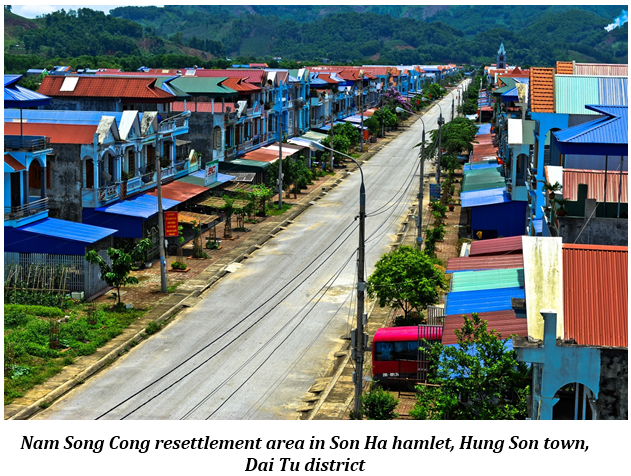 The Nam Song Cong resettlement site is located in the Hung Son Commune, Dai Tu district which has good physical infrastructure and social services facilities. Currently, 425 plots are available to households and 433plots have been allocated, with most of the allocated plots are with houses either constructed or under construction. A 10.5m-wide asphalt main road with 6m-wide sidewalks on either side has been built at the site.
The Nam Song Cong site has several features for residents including
a market with an area of 6
,
000m
2
, a facility for domestic water supply and sewage and waste treatment, telephone lines, a power supply system, and a health care center, a cultural house and a church. There is a cemetery near the site with a total area of 8
,
500m
2
, which includes a prayer house for funerals, a brick fence and other necessary features.
Hung Son 3 site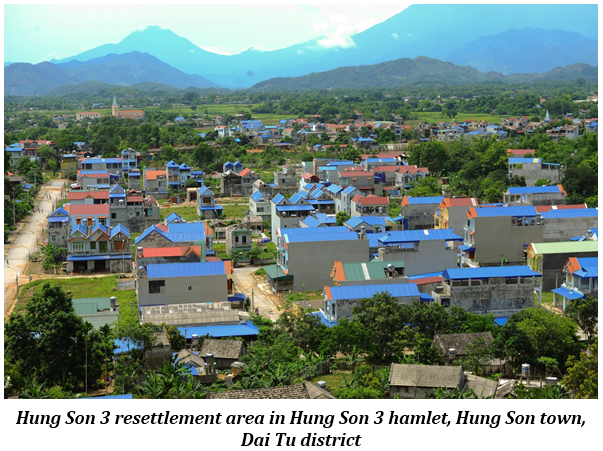 The Hung Son 3 site is located in Hung Son commune, Dai Tu district, currently has 205 plots. A 10.5m-wide, asphalt main road with 4.5m-wide sidewalks on either side has been constructed at the site.
F
eatures of the Hung Son 3 site include
a kindergarten and acultural house for the community. It has a total area of 1
,
200m
2
, and is operated by the Hung Son commune. A facility for domestic water supply and sewage and waste treatment is currently being constructed. All plots were allocated to the households and most of the households have constructed houses and resettled to this site. Both Nam Song Cong and Hung Son sites are close to the affected sites from which the households and land were acquired for the project.
Hung Son 2 site
In addition to the two resettlement sites, Masan Resources developed the Hung Son 2 site. Hung Son 2 has an area of 3.2ha with drainage and road systems constructed to support the economic restoration programs in place. A Taiwanese company has already invested in the mushroom workshop shows a good model of a partnership between NPM and other investors for the economic restoration activities which developed by NPM.
DONG BONG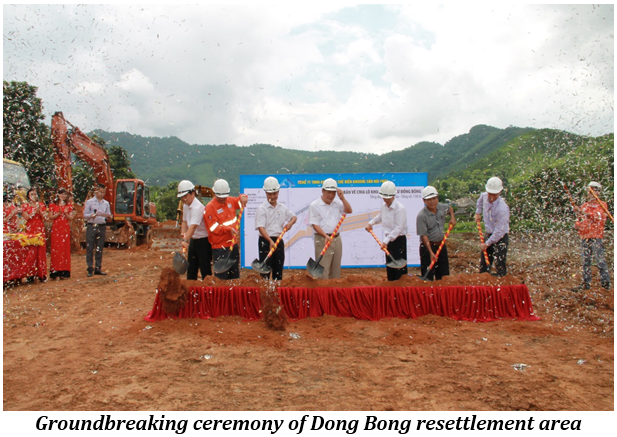 A third resettlement area, Dong Bong located in Ha Thuong commune, Dai Tu district started construction in late 2014, and it is expected that construction of homes will commence on the site in second half of 2015. Dong Bong resettlement area has been constructed in response to the wishes of more than 120 affected households in Hamlet 3, 4 (school road site) who expressed a desire to be relocated to Dong Bong, rather than the other two resettlement areas (because of their community connection). Dong Bong is a 5.0 ha area containing 138 lots of average 130m2 each. A church for catholic is under construction in the area of 2000m2. Like the two other resettlement areas, Dong Bong will contain electricity infrastructure, access road, water reticulation, and a sewerage system as well as other social service consistent with "Modern Village" standards.