Overview
We have developed a pan-national distribution network with over 164,000 points of sale, covering all of Vietnam's 64 provinces. Our network includes all major modern trade channels, such as hypermarkets, supermarkets, and convenience stores, as well the traditional, primarily independent local operators. At the end of 2012, we had established exclusive relationships with 180 distributors and 1,628 dedicated sales force throughout Vietnam.

Growth of Points of Sale (POS)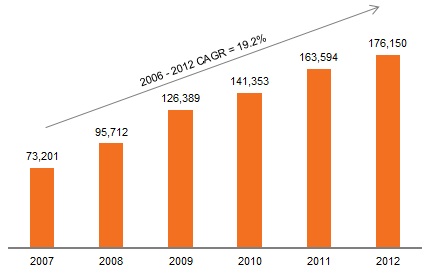 Source: MSC's Management

We operate five distribution centers, strategically located in the Binh Duong, Tan Binh, Da Nang, Hung Yen and Hai Duong provinces to provide our distributors with products within 24 hours of an order being placed. These distribution centers collectively handled more than 800,000 pallets in 2012. 


To support our distributors throughout Vietnam, we provide them with regional exclusivity and work closely with them to ensure the effectiveness of their sales force and smooth coordination.
The operations of the distributors and sales members for our products are supervised by a team of 188 sales supervisors who collect sales data and meet daily to report back to us on the performance of our distribution network. Both distributors and salesmen are incentivized by bonuses if they meet and exceed sales targets.

Distribution Flow
One of only a few companies with direct outreach to rural areas