Condiments
Fish Sauce
Overview
Fish sauce, a condiment derived from fermented anchovies, is a staple Vietnamese consumer product. In 2013, the fish sauce market in Vietnam is expected to reach approximately VND8,649 billion.
The Vietnamese fish sauce market contains many small, unbranded local producers whose products are typically sold in wet markets (traditional open food markets commonly found all over Vietnam) at low price points. With the increase in the disposable income, the market has shifted significantly to branded segment, thereby benefiting Masan Consumer.
Fish sauce market value data (2007 - 2017F)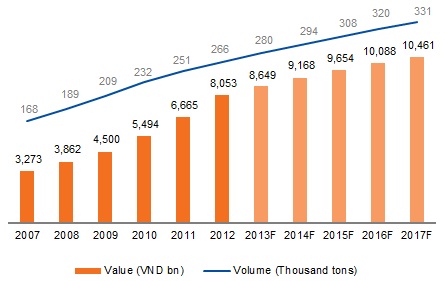 Source: Euromonitor as of Mar 2013
Growth Drivers
Vietnam's branded fish sauce market is expected to continue to grow steadily in coming years due to a number of market trends, including:
Demand for quality products - Consumers are more willing to pay for quality and safety, and have therefore shifted toward premium branded fish sauce products. The concern is mainly driven by a series of food safety scandals in the past; in 2007 some local producers were found guilty of adding urea, a toxic chemical, to artificially raise the protein content of their fish sauce.
Increase in product offerings - Fish sauce manufacturers have adapted to the increasingly sophisticated demands of consumers in Vietnam, offering new products, varying price points and different bottle sizes to appeal to a wider customer base.
Room for further penetration - Vietnam's consumption per capita of fish sauce is estimated to be lower than that of other Southeast Asian countries, mainly Thailand, indicating potential for further growth.
Changing consumer behavior - Vietnamese consumers are increasingly using fish sauce not only as a dipping agent, but also as a seasoning ingredient in cooking. Consumers are also looking for greater convenience and value add.
Competition
Driven by Masan Consumer's aggressive advertising and marketing strategies, the fish sauce market has become highly organized over the least 3-4 years. Major food manufacturers are Masan Consumer, Hung Thinh Co Ltd, Acecook Vietnam, and Lien Thanh Co Ltd.